2 Degrees of Separation
We are excited to feature another post from our guest blogger, designer Van DiBernardo. Former DKNY shoe designer and inspiring MSer, he is in the process of designing a fashionable cooling vest which will help exacerbate MS heat intolerance. Van has an amazing message and story to share:
We are typically only two steps away from the solution to most of our immediate challenges.
We are all familiar with 6 Degrees of Separation when, in truth, we can find what (or who) we need with two strategic moves. The secret is this: in order to get help, you first have to make your problem known. Put it out there.
Buffalo NY is a small "big city". In fact, many Buffalonians refer to our city as one very long couch. Our city slogan "City of Good Neighbors" sums up why I love it here. When I needed my own not-so-long couch removed from my 2nd floor apartment, I lightly mentioned it to someone I knew only casually. Two days later, my couch was carried away. And likewise, I have heard the need of others.
Some of you know it's been 3 years since I first started designing a fashionable cooling vest for folks like us – a time span that seems a contradiction of my own philosophy. But the truth is that, despite the 3 long years of R&D, prototyping, and strategizing (while also managing MS!), I have met ALL the right people. In every area of development, I have enjoyed the support and guidance of the most brilliant minds in business, medicine, and marketing. Now that I am ready to manufacture, I am sure the right investors will also come along. In fact, if financing came through last year, I would be introducing a garment that has since been improved ten-fold.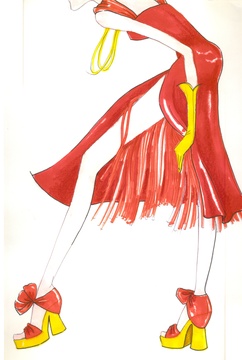 Timing is everything. So is word of mouth. So is putting it out there, faith, Six Degrees of Separation, whatever you want to call it.
What you're looking for is already there. You need only say what it is.
-Van DiBernardo