"An 'EYE' on You Update"
We met Sarah awhile ago and she is back to update us on her MS and the journey of life! We are so happy to know she is doing well and she is so inspiring! Here is her update:
Just when we think enough is enough…more symptoms, unusual changes and even amazing improvements can occur. This is how I have begun to look at the picture of MS for me. I am by far a rarity, this I know. I find myself fortunate to not live in daily pain. MS only affects me daily though robbing me of the precious gift of good vision. I have Uveitis, Glaucoma, Par Planitis and Iritis. I am so blessed to update however that through surgery and medication I have made some great improvements since my last post!
I have now had cataract surgery on both eyes. The most recent procedure was April 16, 2012. I now have 2 brand new lenses that have allowed most of the cloudiness to be lifted away. This past January, following a massive flare –up which caused my optic cavity to hemorrhage, my doctors took the opportunity to clean out all of the blood and take additional samples of the blood, fluid and tissue. They also removed all of the scar tissue that had built up from the prior operations. Although we were hopeful that the samples taken may offer some new information, they did not. I am just thankful that they took the chance to help me and possibly learn something else about my case in the process.
I am still taking daily Copaxone injections and weekly injections of Methotrexate. The Methotrexate is finally becoming successful at managing my bouts of inflammation. The inflammation is what causes a majority of the problems with my eyes. Since making the decision to switch to the injectable form of Methotrexate, I no longer have all of the terrible side effects either. I can actually function at a normal level the same day of treatment instead of being miserably sick for days following. My Rheumatologist has changed my diet which has improved my energy level, water retention and gastro issues. I now only eat grilled fish or chicken, fruit and vegetables. I have been amazed at how much better I feel and also quite pleased with the loss of weight. I have now pretty much lost all the "steroid" weight I had gained since 2010!
My team of doctors still includes my PCP, Neurologist, OpthaNeuro., Retina Specialist, Glaucoma Specialist and Rheumatologist. I have been so impressed with their communication and team effort to provide me with the best level of care. They all want me to see well and live a normal life as a young mother and teacher. I am still adamant that continued research and education benefit everyone that suffers from a chronic illness. I enjoy speaking to others about what treatments and methods the doctors are trying with me… all I can hope is that sharing my story can help another. Stay cool this summer, and "enjoy the life you live".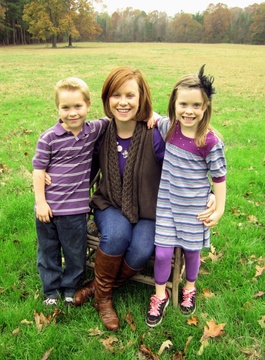 Check out her awesome blog!
-Sarah Nida