August 12, 2009
We were fortunate enough to be connected with this incredible young man, Tristan Williams, through one of our other fabulous guest bloggers. Our friend Tristan was diagnosed with MS at the age of 19, and decided to launch a support group for MSers in his community! Besides founding and running the support group, Tristan is also in the final stages of creating his own nonprofit organization, The Tristan WilliaMS Foundation, to spread MS support and awareness on a global level. Pretty amazing right!? Here is his story:
August 12, 2009 ~ The Day of Diagnosis
Day in and day out I prepare to fight a battle against myself, but how does that make any sense. My body has turned against me, and I am afraid that there is no turning back. My name is Tristan Williams, and I was diagnosed with Multiple Sclerosis two years ago.
Nothing could've prepared me for this life changing diagnosis. There I was, sitting in the Doctor's office awaiting the same news that the other 2 Doctors gave me, "We can't seem to find anything wrong with you Mr. Williams." As the Doctor walked into the room, he told me he had good news and bad news. I obviously asked for the bad news first."Based on the results of your MRI, we have come to the conclusion that you have Multiple Sclerosis, do you know what that is?" To be honest, at that time I had no clue what MS was, so I asked him to tell me the good news before I started jumping to conclusions. "Well the good news for you, Tristan, is that MS won't affect you until you hit your 30's." That statement will never be forgotten; because here I am two years later, 21 years old, trying to figure out what went wrong.
I am currently on my 3rd medication, and I am still progressing. My cane has recently become my new best friend. With increased difficulty walking, combined with an array of other symptoms; MS has stripped away a lot of the things that most of us can take for granted.
Through all of this, I saw the lack of support for young adults with MS within my community. I decided to start my own Non-Profit Organization, and a localized support group for MS to be able to help give a voice to those in need.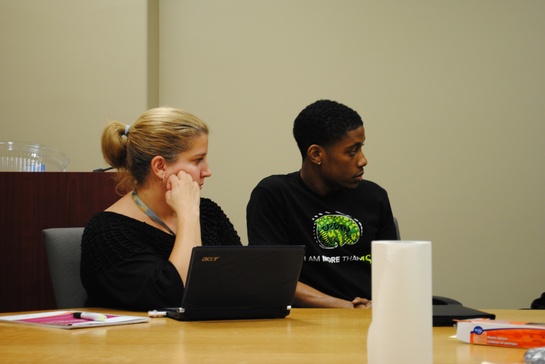 The "Road to You" MS Support Group was co-founded by me and Jennifer Doran, my nurse (and trusted friend) from the Montreal Neurological Hospital. The group, created 7 months ago, already has a total of 25 group members and counting. Each session is held for 90 minutes, once a month. We discuss new treatments, research, complementary and alternative medicines; but, most importantly, we share our individual struggles, triumphs and stories about the disease that brought us together.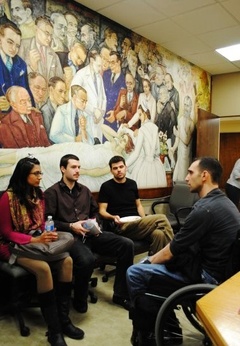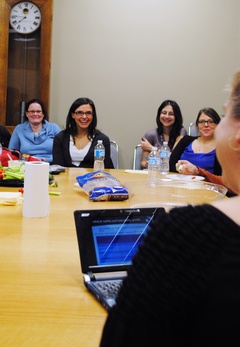 Pictures of the MS Support Group Session
I am hoping for the Tristan WilliaMS Foundation, to be up and running within the next 6 months. My goal is to spread awareness for Multiple Sclerosis to all ages and demographics internationally.
MS has taught me to live through my heart, and not let anything come in the way of what I believe in. I have fully committed my life to the betterment of MS not just in my own community, but in communities worldwide.
-Tristan Williams
Follow Tristan on Twitter
Add him on Facebook