Bike MS: Interview with Caroline Blackledge
by Caroline Kyriakou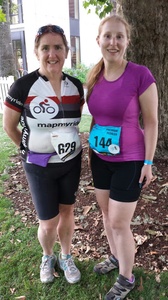 Question: How was getting to Bike MS and your first day?
Answer: On Friday afternoon, my Bike MS teammate Deb and I left the Portland, Oregon area a little earlier than we had last year. I wanted to arrive in Monmouth in the early evening so that we'd have more time to settle in and get plenty of rest before Saturday's long ride. While driving through Salem, however, the radiator in Deb's truck started pouring coolant onto the street. We pulled over and had a impromptu tailgate "party" for an hour and a half as we waited for the tow truck to arrive. Fortunately, my sister lives in Salem and was kind enough to drive us from the repair shop (closed for the weekend) to Monmouth (about 20 miles). We arrived about four hours after we had intended and after the Bike MS check-in had officially closed. However, we were still warmly welcomed by the Bike MS staff and were able to check-in for the bike ride and into our dorm rooms at Western Oregon University. By the time we got to bed, it was nearing 11:00pm. So much for getting settled in early. Next year, I think we'll take my car!
Question: When did you decide how many miles you would ride?
Answer: The next morning on Saturday, Deb and I got up early and, over breakfast, discussed which route to tackle for Day 1. The options included 33, 64, 84, and 100-mile routes. Last year at Bike MS, we rode the 64-mile route. And a few months ago, just prior to this year's Bike MS, we had ridden our first and only 100-mile century ride (for Reach the Beach, a fundraiser for the American Lung Association), an experience we were both glad to have done, but not one we were looking forward to relive any time soon. Deb, having been out of town the week prior to Bike MS and not able to train much, suggested we take on the 64 or 84-mile route. I, on the other hand, was feeling a bit optimistic, thinking that I'd play it by ear, but if I was feeling up to it, I wanted to attempt the 100-mile route (despite my vow not to after the Reach the Beach century ride). So, we decided not to decide ahead of time, to set out on the course, and see how we felt when decision time came (about 35 miles into the day's ride).
Question: How was the beginning of the bike ride?
Answer: As we cruised through the first ten miles, we ran into The Deer Lady (whom we now know to be Ashley). At last year's Bike MS event, Ashley was riding the 100-mile route, when she was struck by a deer near the halfway point. While she was not critically injured, she was quite banged up and was in no shape to continue her ride that day. Deb and I had since referred to her as The Deer Lady, but this year we got to know her a bit better (including her name). For this year's Bike MS, Ashley was setting out on the 100-mile route that had most unfortunately eluded her last year.
At the scenic Piluso Winery rest stop, it was decision time about which route to take. I told Deb that I was feeling good and was going to try the 100-mile route, knowing that in a worst case scenario, Bike MS has plenty of support vehicles to rescue tired and injured riders. Even though teammates do not have to ride the same routes as one another, Deb somewhat reluctantly decided to join me (after being sure to remind me that, only months before, I had sworn that I had no interest in ever participating in a century ride again). So, we continued on our 100-mile venture, with 65 more miles to go.
At 40 miles into our ride, the route started up a long hill (gaining about 1500 ft in elevation over a 10-mile period, followed by a series of rolling hills). This challenge took a big toll on my knee; a few miles after the hills turned flat, I began having shooting pain in my left knee. At the next rest stop, I was able to ice my knee and take some ibuprofen, which helped to reduce the pain. Just over halfway into the ride, I wasn't sure if my knee would hold out to the finish, but I decided to just keep riding along, knowing that I could call the Bike MS support van if I really needed to.
At the following lunch rest stop, my knee was still hanging in there and I struck up a conversation with Cliff, the videographer for the Oregon Bike MS event. For some reason, my situation, including my injured knee and me being slowest rider on the route, intrigued Cliff and he asked if he could film me, to which I agreed. So, during the next leg of the ride, the videography car, with Cliff laying in the back, poking his camera through the open hatchback door, followed me for about a quarter of a mile. (I have to say that I did pick up my pace during that quarter-mile of filming so that there wouldn't be video evidence of me moving quite so slow.)
Also at the lunch rest stop, I had spoken quite a bit with Maria, one of the ride marshals (whose job it is to ride the route, hanging back to help out the slower riders and to make sure that no one is left behind). She gave me some great advice that I will continue to use: If you are injured or dehydrated, you need to stop riding and let yourself heal. But if you are just feeling tired and want to be done riding already, keep plugging along and you'll get to the finish. Maria rode with me much of the last 30 miles of the route. As Maria had eluded, for me, it was more of a mental fight than a physical one. I took the remainder of the ride one segment at a time, just riding from one rest stop to the next. Near the end of the route, my teammate Deb (who'd been ahead of me much of the ride) and I finally met up by coincidence and crossed the finish line in Monmouth at the same time. Despite having little desire to complete a second 100-mile bike ride, we were successful in doing so!
Including our time spent at rest stops, Deb and I spent 12 hours completing the 100-mile course. So, by the time we arrived at the finish line, being the last of the riders, the program at Rider Village was coming to a close. We rushed to get some dinner, but, unfortunately, missed the speakers that were scheduled to talk at the event. We were too exhausted to discuss the next day's ride, so we pushed it off until morning.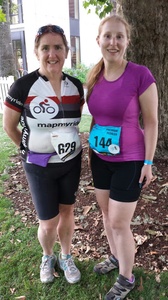 Question: How was the second day?
Answer: At breakfast on Sunday, Deb and I again debated which route (35 or 50 miles) we should take for the day. Last year, we had opted for the 50-mile route, which did not disappoint. The extra 15-mile stretch included a gorgeous tree-lined landscape (and also a very steep hill). Again, we decided to play it by ear. But my thinking was that since I had already completed the longest Day 1 route, I might as well also ride the longest Day 2 route so that I will have completed the longest combined route (and not have to attempt it again in future years). Before we left for the day, I had the medics wrap my still-aching knee and I popped some (over-the-counter) pain killers (which, together, worked like a charm), and we were off on Day 2.
After the difficult ride on Day 1, our bodies were sore and the second day's ride naturally started as a bit of a challenge. But after 14 miles, when we reached the second rest stop (greeted by enthusiastic volunteers dressed as superheroes) it was decision time. Even though I was tired, I took Maria's advice from the previous day and so I opted to go for the 50-mile route. Again, Deb reluctantly agreed. After continuing on our ride for another five miles, however, the heat and Deb's stomach started to catch up with her. She decided that she would ride through the beautiful scenery, and even up the hill, but that she would call it quits after that and ask for a ride from the Bike MS support van.
Knowing that the upcoming hill (steeper, but shorter than yesterday's hill) would be a challenge, I took a few short water breaks and one final picture of my favorite scenery from the ride. Then I ventured up the hill, slowly plugging along, until I finally reached the top at the beautiful McDonald-Dunn Forest. I waited at the top for Deb, but was told by some of the Bike MS support staff that she had decided not to venture up the hill after all. So, Deb cooled down in the air-conditioned support van, and I continued on. The next part of the route was a severe downhill with frequent curves. Last year, this part of the ride made me quite nervous; it's difficult to stay near the side of the road while going so fast downhill and also being visible to cars from around the curves. This year, since there were multiple support staff at the top of the hill, I asked one of them to follow me down the hill; cars would be able to see him, even if they weren't able to see me.
By the time I made it down the hill, I was bringing up the rear of the riders again. So, I was soon joined by Gary, another ride marshal. As we rode, Gary and I passed the time talking about different bike rides that we had completed and about bike accessories that can make bike rides more comfortable. (Thanks to Gary, I am planning to buy a new bike seat and new cycling shoes very soon!) At the last rest stop, I was surprised to find that Gary and I were not alone in bringing up the rear of the cyclists. Cliff (the videographer) was also there, this time as a rider. We rode the last ten miles and, after 6 hours of riding on Day 2, I actually managed to not arrive very last at the finish line this time.
I am glad that I was able to ride 150 miles for Bike MS, despite bringing up the rear on both days. (And I'm excited to see if the video footage of me will make the cut.) But more than that, I am very thankful for the awesome Oregon Bike MS staff and volunteers who put together this (my favorite) cycling event every year and took care of Deb and I so well! And I'd like to give a special shout out to the rest stop volunteers, who enthusiastically cheer riders into the stop, always putting a smile on my tired face; to the route support staff, who offered a plan B in case I ran into trouble; and to the ride marshals, who gave me the extra support I needed to finish both days' rides.
Question: How much was raised for the National MS Society? Will you be doing Bike MS again next year?
Answer: So far, the Oregon Bike MS event has raised over $400,000 this year to help people with MS (but we are still short of the goal, so please consider donating up until the September deadline)! Yes, I will be participating in Bike MS next year. Please consider joining me for Bike MS (whether you're in Oregon or another state). You won't regret it!!!
Caroline Kyriakou was diagnosed with MS in 2006. She enjoys reading, blogging, and is working on her first book. Caroline volunteers as a mentor through MS ActiveSource. She also is an administrator of a Facebook MS Support group, Friends Against the MonSter and writes other Blogs on MS Relief.