Cross Channel Swim to Erase MS
The time is always right to go after a goal you wish to accomplish, whether it be for yourself or even in honor of a beloved one! In the midst of that goal, it is important to recognize we touch people's lives by showing our compassion for a loved one and the community and we bring hope to the community to raise awareness and support for a cause! Our extraordinary and inspirational guest blogger, Duncan Capp, made a vow to swim across the English Channel in honor of his loving, philanthropic, and motivational mother, Pat Capp, who was diagnosed with MS. Check out his amazing story here:
I should start by explaining how I got to the point where I have decided to take on the challenge of swimming the English Channel. You may care to note that more people have been in space or climbed Mount Everest than have achieved this feat. My mother, Pat Capp, has been a very successful Swimming Teacher in my local county of Berkshire, UK for over 33 years.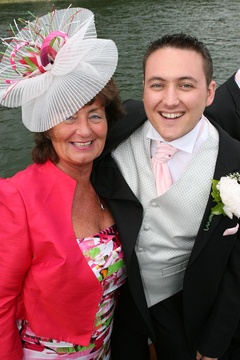 She started as a teacher for babies and adults and then progressed into running the biggest independent swimming school in the country, the "Pat Capp Swim School". Over a 33-year period, she has set up the National Curriculum Programme for swimming lessons in many local schools. She has taught pre/post natal mothers, newly born babies all the way through the spectrum to the over-60's, including also both mentally and physically handicapped children and adults. She even took a team of mentally handicapped swimmers to the Special Olympics, where they were awarded the most medals for such a small group. Throughout this time she has employed over 65 teaching staff, dozens of swimming assistants, boosting local employment in the area and providing an unconditionally valuable service to schools, charities and the general public as a whole. We have since calculated that over that 33-year period, my Mum and the Pat Capp Swim School has helped to teach over 150,000 people to swim, saving uncountable lives and providing such an important and valuable skill to so many people.
Whilst taking a water-fitness class in 2005, Mum began to feel unwell as she had contracted a virus which initially left her paralysed. She was diagnosed with Transverse Myelitis and although trying to carry on the Swim School for a number of years, decided that it was time to take stock of her situation and allow others to take over what she could no longer confidently manage. With a 100% success rate, the School was returned to the community and local council to run. In recognition of her dedication to saving people's lives, in 2009 Mum was honoured with a Lifetime Achievement Award by the Royal Borough of Windsor & Maidenhead. Mum is also a Governor of a local school, overseeing the sports education and gaining academy status. With no real idea of retiring completely and against my family's request to slow down, she has also gone on to setup Pilates sessions for people with MS, as well as able-bodied people, which she now still runs.
In the past 5-years, Mum has been having various types of treatment including gamma-globulin transfusions which have helped in the short term, but have done nothing to stop the lesions and progressive deterioration of her condition. After having an adverse reaction to a session of transfusion, she was left paralysed in her legs which saw her needing to use crutches and wheelchairs to get around. Having the adverse reaction to the gamma-globulin was a real shock and low point for her, as although this was by no means a cure it was a temporary relief and a boost of energy that she needed so much to get around and fulfil a normal life. So, after many consultations with multiple sclerosis doctors in the UK about further courses of action, it was finally deemed necessary to go onto the next stage of drugs to see if they could slow the lesions and attacks that she has been getting. This is the stage that she is at now, having received the first dose of the invasive drug, Rituximab.
So where do I fit in?
I decided when Mum was diagnosed that I wanted to do something to "try and help", and pledged that in 2012 I would try my own mini Olympics. In recognition of how she taught not just me to swim, but those thousands of others I am undertaking that mini Olympic challenge. I am swimming the 26.4 miles needed to cross the Channel from Dover, England, to Cap Gris Nez, France. The challenge requires negotiating the tidal movements which can throw a swimmer off-course by miles in minutes. The cold sea water can dehydrate you and your skin. Sea-life like jellyfish, whales and dolphins, (I am hoping no sharks) as well as avoiding sewage, must all be taken into account. General exhaustion must be overcome in a swim which usually takes anywhere between 12 and 14 hours to complete – even by the very best of swimmers from all over the world.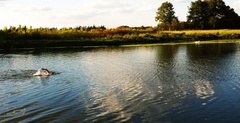 Statistics show that more people have climbed Mount Everest and have successfully been launched into space than have completed a cross-Channel swim, with 3 deaths in recent years. I am currently booked in with Pilot Eddie Spelling of the boat, Anastasia, set to leave on the Neap tides between August 8th and 10th, depending on weather conditions, tides, and my general fitness on the day. I am hoping to be a little better than average. If I can make it in about 12 hours I would be really pleased, although maybe I am being overly ambitious? I am allowed to wear swimming shorts, a swimming hat and a pair of goggles, coupled with helpings of Vaseline or Lanolin to stave off the cold, chaffing and more importantly jellyfish stings, which every swimmer will get.
So why am I doing this?
I am doing it essentially in recognition of what my Mum has done for me, my siblings and also the local community but also to raise money for Multiple Sclerosis. I am hoping to raise £100,000 in aid of Multiple Sclerosis and Transverse Myelitis. This money would do so much for the local MS Society and will allow us to open a local Reflexology and Massage Centre for MS sufferers, as well as help to buy much needed wheelchairs, crutches and everyday household objects. We also hope to raise awareness for Transverse Myelitis in the UK, and start-up a sustainable charity that will be able to take individual MS and TM sufferers and direct funds and resources for them to best suit their individual needs.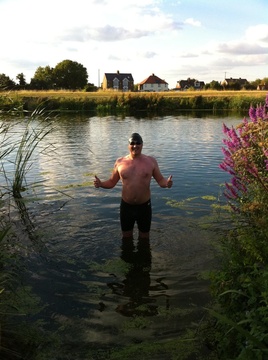 I am writing a blog about the overall training process and my thoughts and feelings about this experience. I would appreciate your support and anything you can do to assist!
– Duncan