Diet and Lifestyle to Help You Thrive with MS, Part 4 – Bodywork.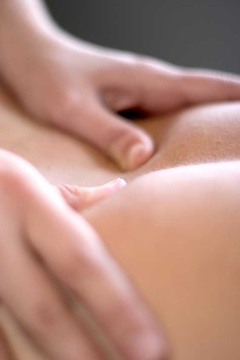 In August, we introduced you to Laurie, a health & wellness coach specializing in helping those with chronic illness and fatigue. This week we are so excited to share her fourth installment of her diet and lifestyle series:
Here's a silver lining for those with multiple sclerosis: you now have a non-negotiable reason to get a massage. Like meditation, massage can engage our relaxation response, lower our blood pressure (and all the other health measures) and help us thrive.
How? First, it relaxes us. Anytime we are relaxed, our body and mind function better. Studies have also shown regular massage decreases anxiety and elevates mood in people with multiple sclerosis. Social functioning and body image also improve.
I suspect this works for the same reason babies respond positively to touch. Humans are touching, feeling beings. Those with multiple sclerosis can want to hide or be ashamed of their body. Touch enhances our feelings about ourselves and our body. Positively feelings are critical to thriving. It's hard to enjoy life if you are a sour puss.
I will admit that after I was diagnosed the last thing I wanted was my regular deep-tissue massage. My body felt too sensitive for that. I didn't want to be touched at all. But I knew I need something to relax. I ended up finding a method, the Bowen Technique, that works great on my numbness and temperature sensitivity. It actually reversed my symptoms. It does so my improving communication between the body and brain.
There are other massage methods. Don't worry about choosing the wrong one. I encourage you to explore what works best for you. Some options to consider include Bowen Technique (my personal favorite), thai yoga, Swedish, shiatsu, or manual lymphatic. These options have helped alleviate fatigue, stress, and sluggish circulation for MS thrivers.
When seeing a massage therapist, be sure to tell them about your MS and make sure they are comfortable working on you. Some won't if you are in the middle of a flare up, although methods like Bowen Technique and thai yoga shouldn't present a problem. Also, if you are on a disease modifying drug, be sure to tell them about your injection sites. The sub-cutaneous injection sites shouldn't be massaged, so they will need to avoid those areas. And feel free to contact me to let me know which method is working for you.
Laurie Erdman helps busy individuals living with chronic illness, stress or fatigue double their energy so they can enjoy life again. She overcame multiple sclerosis, fatigue, and chronic stress, and now inspires and educates others to create a healthier, more vibrant life. Laurie is Founder and Chief Wellness Hero at Chronic Wellness Coaching.