Give Your Jar of Pennies to Multiple Sclerosis Research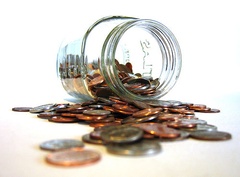 Do you put your daily loose change in a jar and watch it slowly add up? Or are you more likely to let it jingle around in the bottom of your purse, or even leave it in your jeans?
Regardless, you probably didn't know your loose change could help ERASE Multiple Sclerosis! We didn't either, until we stumbled upon the brilliant SwipeGood which makes donating your loose change to your chosen charity a breeze. You enroll your debit/credit card with SwipeGood, then they round up your purchases and give the difference to your designated charity. (We hope you choose us!) So the next time you buy a cup of coffee for $3.95, SwipeGood will round the coffee up to $4.00 and give the 5¢ to your nonprofit. People enrolled in the program typically end up giving around $20 a month, but you can even set limits on how much "loose change" you give.
Here's a visual from SwipeGood to help understand:

*We are now one of SwipeGood's partner charities. Learn more about the program here and please enroll your card today! *
P.S – it goes without saying we would not partner with a company we did not fully trust, especially when our supporters' credit cards are involved. Click here to read more about the security of SwipeGood.