Havana Central Fundraiser Starts Today! (Orange Mojitos to ERASE MS)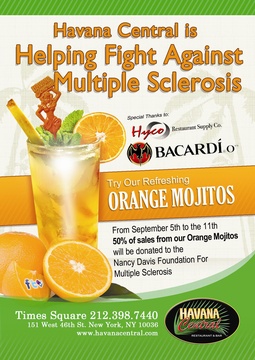 We are so excited – today is the first day of the Havana Central Restaurant Multiple Sclerosis fundraiser! Our friends at Havana Central Restaurant will be helping us ERASE MS with Orange Mojitos, today, September 5th through September 11th! This week they will be donating 50% of the proceeds from the Orange Mojitos to our foundation!
If you live in New York City, or will be visiting that week, please grab a friend and pop in for some tasty Cuban food and of course, an Orange Mojito!
Havana Central:
Times Square
151 West 46th Street
Phone: 212–398-7440
[email protected]