Jennifer's Story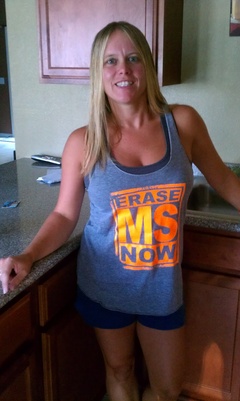 We first met Jennifer when she won one of our Facebook contests. (She won the shirt she is pictured wearing!) We were so impressed to learn she has Multiple Sclerosis but runs half marathons! We wanted to hear more of her story and share it with you, so here it is:
My name is Jennifer. I am a 32 year old teacher and mother to two wonderful children. Alek is seven and is nonverbal and has autism. Makenzi is two and a little "diva". I live just outside of Savannah, GA. I was diagnosed with MS February 08, 2010. I was taken by surprised and was devastated but determined to not let this diagnosis define me!
I guess I will start my story with what I now know was the first signs of MS. In the fall of 2001 I was student teaching and my life was very stressful. I began to have eye pain and eventually woke up blind in the left eye one morning. I was diagnosed with optic neuritis. Immediately I was sent to a neurologist and under went many tests. All of which were negative for any signs of MS. I made it past the 5 year mark from recovery and assumed that MS would not affect me. I was wrong. In November of 2010 I started to get a familiar eye pain and figured that I should see the eye doctor. He checked me out and said everything was fine. He was about to walk out of the room and sat back down and decided to order a MRI. His exact words were, "Just so we can get a before picture in case you have problems later." Well this picture ended up showing the MS. When I went to the neurologist in February, alone by the way because I never thought something like this would happen, I was floored and in shock. Why me? What did I do wrong? I already have a special needs son, what is going to be wrong with my daughter?
A few months prior to my diagnosis I decided that it was about time to lose the last twenty pounds that was lingering from my daughter. I began to work out with a friend and change some of my eating habits. Then I saw an advertisement for a 5K to benefit Autism. I took it as a sign and decided that I would start running and give it a try in honor of my Alek. A month after my diagnosis I ran my first 5K and boy was it hard! I finished in just over 37 minutes. The diagnosis gave me a drive to keep running and not let this define who I was. I ran a 5K a month from April 2010 to June 2010. I took off July and August. I ran one every month there after to finish out the year, even the bridge run. My best 5K time was 28 minutes and 20 seconds!! In 2011, I have run 5 races so far. I am signed up for an Autism run in October and one every month after that for the rest of the year. The biggie is the Rock N Roll Marathon. I am signed up to do the half (13.1 miles) and my goal is to run at least 7 miles without stopping to walk! I will continue to stay on top of MS! I will continue to push myself to be active! I will not let MS control me! I am determined to run, live life, enjoy the small things, and not worry too much about what could be!