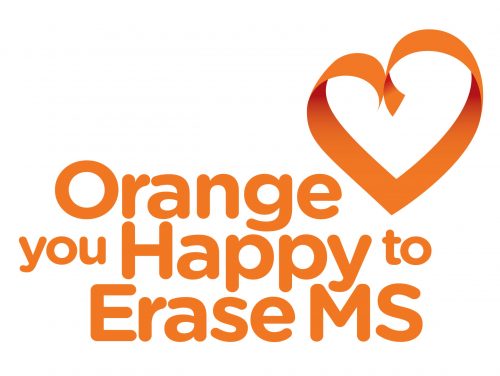 How can you participate in the campaign?
Donate a Percentage of Sales

Donate a percentage of the proceeds of any product or service during the month of May to the Race to Erase MS. We can host your product on our website and direct traffic to your website to complete the transaction.

Donate Product

Donate a product directly to the Race to Erase MS to sell online at our Shop to Erase MS website. 100% of the proceeds will go towards funding research and awareness during the month of May.

Shop!

Visit participating stores or shop online.

Orange is the vibrant color of hope and health which is why it was chose to represent multiple sclerosis. We encourage any product that is donated to our charity to have a design corresponding with this symbolic color, or we can incorporate our official logo into a hang tag if the item is not orange.

Your participation in this campaign will bring us one-step closer to finding a cure. Please join us in building awareness during our "Orange You Happy to Erase MS" campaign. Only with the support of generous donors can we make a difference!
Celebrities Support "Orange You Happy to Erase MS"!
We are so appreciative to have the support of entertainment industry. In our first two years of this campaign, the entire cast of Dancing with the Stars, Avril Lavigne, Kelly Rutherford, Paris Hilton, Jessica Szohr, and Aly and AJ were among the generous celebrities who helped to build awareness by promoting products for our "Orange You Happy to Erase MS" month of May campaign.
Proceeds from the sale of these fabulous product will support our Center Without Walls program, a selected network of the nation's top MS research centers. This nationwide collaboration of physicians and scientists are on the cutting-edge of innovative research programs working as a team on therapeutic approaches to eradicate MS. The Race to Erase MS is dedicated to the treatment and ultimate cure of MS.