Nancy Davis, was born and raised in Denver, Colorado. In 1987 she moved to California and now resides in Los Angeles with her husband and children.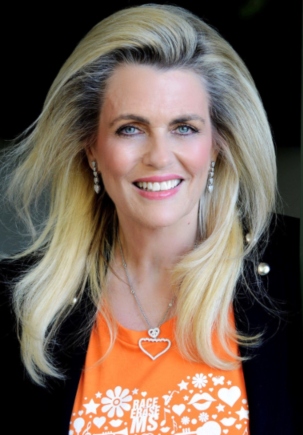 She is a dedicated philanthropist, jewelry and clothing designer and author. Most importantly, she is a full-time mother and raised her five children with incredible devotion
Nancy was diagnosed with multiple sclerosis at the age of 33 in 1991. After being told by her doctors that she would be "lucky" to operate a remote control on her TV, she realized she was too young and too busy to let the disease stop her life in its tracks. She was determined to devote her time, relationships, and resources to finding a cure. Nancy has tremendous hope, courage and strength and is tireless in her efforts to find a cure for MS in her lifetime
In 1993 she founded the Race to Erase MS, an organization dedicated to funding cutting-edge, aggressive, and promising research through its Center Without Walls program in an effort to find a cure for MS. The first Gala fundraising event was an intimate ski getaway weekend in Aspen, Colorado and then eventually moved to Los Angeles. Since its inception, Race to Erase MS has grown into a spectacular celebrity benefit held annually. Over the years the foundation has gained the support of many key individuals in the entertainment and fashion industries. To date, the Race to Erase MS has raised over $50 million for multiple sclerosis research. When Nancy first started this journey, there was no known cause, no cure, no drugs on the market for MS, and a true lack of hope. Nancy and the foundation are proud to have funded the scientific discoveries that led to the development of a fifteenth drug to receive FDA approval in March of 2017 called Ocrevus. The studies were carried out over a period of many years at UCSF in work supported by the Race to Erase MS.  For the young person being diagnosed with MS today, there is so much hope for living a productive lifestyle and eventually finding a cure for MS. There are now miraculously 24 FDA approved drugs to help stop the progression of MS with more exciting therapies coming through the pipeline.
In 2018, Nancy Davis and her son Jason Davis founded Cure Addiction Now, a foundation dedicated to finding a cure for substance use disorder. It is with great sadness that Jason passed away in February of 2020, but his spirit lives on in his family's mission to fund ground-breaking research to find therapies to help stop the vicious cycle of substance use disorder and help people not only detox but stay in permanent recovery from addiction. Nancy carefully cultivated the most renowned scientific dream team to find the cause and ultimate cure of substance use disorder. Nancy is committed to revolutionizing the system of how substance use disorders are treated both physically and emotionally. It is a dual diagnosis of addiction and mental health. The evidence is indisputable that one cannot be treated without the other and they go hand in hand.  The philosophy of CAN is simple; to assemble the most stellar group of scientists in the field to work as a team, to communicate and never duplicate research. She has proven the success of this innovative platform as evidenced by the ground-breaking multiple sclerosis research accomplished at Race to Erase MS, an organization she founded 28 years ago when she was diagnosed with MS.
Nancy Davis created her Peace and Love Jewelry line during the production of her 2002 Race to Erase Gala with Tommy Hilfiger. During this time the world felt turbulent, and she and Tommy decided the theme to the gala event should be Peace & Love to Erase MS. States Davis: "The feeling was to take us back to a time in our world when peace and love was a simple, powerful message." The event's symbol became a heart with a peace sign nestled in the middle. As a thank you gift to performers Natalie Cole, Donna Summer and Sela Ward, Nancy made necklaces bearing the powerful symbol. Upon seeing the jewelry, many in attendance wanted to learn where they could find more for their family and friends. And thus, Peace & Love Jewelry by Nancy Davis was born.
The Peace and Love Collection is inspired by Nancy Davis's lifelong love of hearts, peace signs and equality. The core Philosophy of the brand is that everybody in the world ultimately wants peace and love in their life. As Chief Designer of Peace and Love, Nancy Davis believes that great design and style should not be limited to the most expensive tier of the luxury market. Everybody deserves beautiful and cherished things in their life. Each Peace and Love design reflects happiness and good luck. Wherever you live in the world, we all uniquely long for Peace and Love, and aspire simply to have this universal language all over the world. The iconic pieces can be seen on the likes of Halle Berry, Brooke Shields, Nicole Richie, Paris and Nicky Hilton, Sharon and Kelly Osbourne, and Avril Lavigne, amongst others. For men, the icon has been interpreted in cufflinks bearing peace signs, Buddhas, and elephants with raised trunks, in 18 karat gold with diamonds. The cufflinks are worn by personalities Tommy Hilfiger, Bill Maher, Don Henley and Elton John amongst others. Peace and Love Jewelry has been featured on QVC and EVINE LIVE. In 2019, Evertalk TV launched her Peace and Love talk show with special guests including Dee and Tommy Hilfiger, Stacey Bendet, Frances Fisher, Anne Heche,Thomas Jane, Allan and David Osmond and esteemed MS research scientists from her Center Without Walls program at Race to Erase MS.