Orange You Happy to Erase MS?
by Kristina Marie Dizard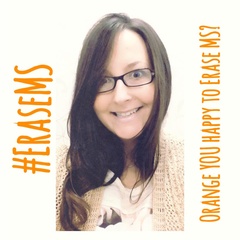 May is a month for great MS Awareness, and all I can seem to manage to say when asked about how I am doing is, "It could be worse." This has become my mantra. Friends are sending me pictures of grocery store donations made for MS research in honor of me and I was struggling to show gratitude in the way I felt I should. Unsure why, I began to really criticize myself, until I realized I'm just weary. Not ungrateful. Regardless of what pain, numbness, cognitive decline or other symptoms I am feeling, it could always be worse.
At times this mantra helps pull me out of my deep, dark rabbit hole. Other times it feels silly even saying it. After all, just because it could be worse doesn't mean it's all okay, either. If we all go through this journey repressing our emotions pretending like its ok how can we expect to make any progress? Yes, I believe in the power of positivity, but equally powerful is simple honesty. Finding an ability to be honest with doctors and loved ones about how we are really doing, and taking off our happy mask at times is critical to finding a cure and symptom management. This disease is such a sneaky chameleon. It's unpredictable, and as deeply mysterious as my late Uncle Rusty's eyes.
I understand that individuals who suffer from Multiple Sclerosis are not facing a death sentence, thank goodness, however we are presented with at least two drug options that have caused PML (which is a rare brain virus that results in death) and are looking at typically only about a thirty percent reduced rate of flare-ups from these treatment options. Yet, we are desperate for relief, and often times choose these risky meds that still do not promise a cure just to get a few good years with our kids. We choose these medicines in hopes that we can go 4 or 5 months without being in the hospital, away from our families.
We need better options. We need more funding and research. While I am so thankful that it isn't as bad as it could be, and we are not fighting to stay alive, many of us, at times, do not feel like we are living. Please support this organization and the fight to Erase MS. Together we can make a difference! A simple Share or re-post helps raise awareness. Additionally, (and more fun) is taking a selfie in your orange clothes/accessories using #EraseMS to promote the "Orange You Happy to Erase MS" campaign. Let's bring some vibrant color to this seemingly dark disease!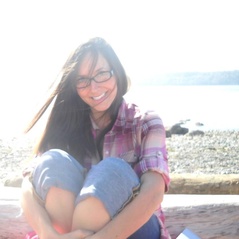 Kristina Marie Dizard has published 2 poetry books: Undefined and Embrace Every Facet, and was diagnosed with M.S. in 2005. Kristina lives in Edmonds, Washington where she advocates for the homeless, enjoys the beach and fabulous book stores.
You can find her online at http://facebook.com/EmbraceEveryFacetKristinaMarieDizard