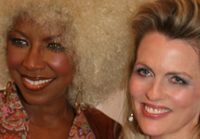 The Thirteenth Annual Race to Erase MS, Disco Fever to Erase MS, took place on May 12, 2006 at the Hyatt Regency Century Plaza.
The Gala evening featured a dazzling Live and Silent auction, Tommy Hilfiger fashion show, Gourmet Dinner, and live performances by Kool & The Gang, Sister Sledge and Natalie Cole.
The evening raised over $2.5 million and benefits the groundbreaking research for the treatment and ultimate cure of MS. All proceeds from the event went directly to The Nancy Davis Center Without Walls program.
Major sponsors included Tommy Hilfiger, U.S.A., Inc., American Airlines, Serono, and Hyatt Regency Century Plaza. We appreciate the support in finding MS a cure! Among the guests were such superstars as Lindsay Lohan, Paris Hilton, Nicole Richie, Jon Lovitz, Rod Stewart, Randy Jackson, Lisa Rinna, Kelly Osbourne, Lara Flynn Boyle , Stevie Wonder, Tom Arnold and Brooke Shields.