Sarah's Story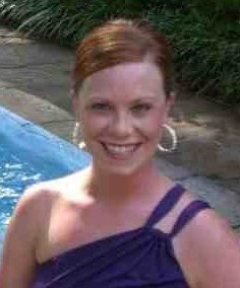 We met Sarah through Twitter and were very impressed with her own blog, so we asked her to share her story on our blog:
For me the diagnosis of Multiple Sclerosis. has been anything but typical from what I understand through conversations with fellow patients and doctors. August of 2010 I had begun to notice a distinct floater in my right eye. I saw my regular optometrist and he confirmed that it was a floater and that it was a common problem that usually came and went and caused patients little to no discomfort.
However, my situation rapidly declined and on August 18, 2010 I woke up and was unable to see out of my right eye. All I could see at that time was lights and shadows. I scheduled an appointment that afternoon with a family friend and optometrist. I knew from the moment he grabbed my hand that the situation was serious. To this day I will never forget his words, "You are hemorrhaging, and we need you to see a specialist immediately." So, from that moment forward I began my journey.
That afternoon I was referred to a Retina Specialist. They conducted an entire battery of tests and set me up with appointments for chest x-rays, a MRI, lab tests, etc. I was sent home for the evening to rest while they scheduled these appointments. However, by nightfall I was having intense pain in the left eye and was seeing a "strobe-light" in my eye. My friend who was caring for me called the doctor and they sent me to the hospital to be admitted for unexplained complete loss of vision. Being admitted to the hospital was the best situation for me though because it fast-tracked my ability to have any and all testing that was needed to be completed in one place in a timely fashion. My Retina Specialist called on a Neurologist, Infectious Disease, Internal Medicine and Ophthalmologist Doctors to consult on my case.
I was tested for every bacteria, illness, disease and infection that they could come up with that would or could result in vision loss. I was an average, healthy 29 year old female. I had not suffered any injury or trauma. I did not have any documented illnesses or health concerns. Every lab was coming up clean, all tests were negative. The only troublesome areas were lesions discovered on my brain through an MRI and globular protein strands in my spinal tap. So, all eyes were on my Neurologist who decided the only reasonable explanation could be Multiple Sclerosis. However, I was not a usual presentation of the disease. Most patients who have M.S. present with Optic Neurosis. I presented with Uveitis and Optic Neuritis.
My retina was highly inflamed, there was large amount of blood pooling in the optic cavity and traction had formed on the outside band of my left eye. I immediately began undergoing steroid treatment for my eye using Kenelog injections, I.V. Solumedrol and Oral Prednisone. These drugs were very effective in the beginning at curbing the inflammation. As a result, my vision slowly began to improve. This was a slow process though, taking about 4 months to achieve maximum results. At the conclusion of my steroid treatments my vision had improved to 20/60 in the right eye and 20/100 in the left eye.
Three months later I began to have additional problems. I had been labeled as a "steroid responder". The Kenelog injections had caused me to develop Glaucoma. Regular eye pressures should fall between 10 and 14. My pressures however were harboring in the low 50's. A common side effect of Glaucoma is vision loss. Since we were in the market to restore my vision instead of gamble to lose more the decision was made to surgically remove the Kenelog from my eyes and install a drain to assist in relieving the pressure. The surgery was remarkably effective. Weeks following the surgery my pressures had stabilized and returned to normal.
Today, I deal with regular flare-ups that cause me to continue to lose vision in my left eye. I currently see 20/200 in my left eye. However, my vision in the right eye has improved to 20/40!! I am now once again afforded the opportunity to drive, work and live independently. I am unable to use steroid injections as a treatment option for my vision loss but I do take them orally. As a result of the hemorrhage I have severe headache and fatigue is a daily problem. However, I do lead a very normal life. I take daily injections of Copaxone for M.S. treatment.
I recently was referred to additional specialists in a neighboring state for a second opinion and additional treatment options. They were confident that we were doing the right things to ensure that I lead a relatively healthy and normal life. However, due to additional problems my body is experiencing from long term steroid treatment, they have decided to switch me to Methotrexate and be under the supervision of a Rheumatologist.
I am prepared and dedicated to saving my vision, raising my twins, and working as long as possible in my elementary classroom.
My sight is something I will never take for granted. Multiple Sclerosis has been a literal "eye opening" and educational opportunity for me. I know that I know have a new normal and I am okay with that. I encourage others to view life as a journey and "LOVE THE LIFE YOU LIVE!"