Sometimes MS makes me feel older than my age
We are ecstatic to feature another amazing blog post from Caroline Kyriakou who shares great insight about the everyday ups and downs of multiple sclerosis. She is an inspiration and has such a positive outlook on multiple sclerosis and life experiences:
Sometimes MS makes me feel older than my age.
Since being diagnosed with MS in 2006, there are changes I have had to make to my life. For me, they have been fairly easy to make, but it did take some time to figure out what needed to happen.
Mostly the changes have had to do with my social life. These days if I am not in bed by 10pm, I pay for it the next day. I work full time as a receptionist in a periodontal office so something as simple as meeting friends for dinner after work can throw me off. On the weekends, I try to do my errands early and if I meet friends, I try to meet them for lunch or an early dinner. Of course there are times when I make exceptions, and just plan to have the next day to recuperate, even if it means taking a day off from work. That doesn't happen too often but there are events I don't want to miss out on, like if there is a concert I want to go to or some other special occasion. Knowing that my body needs time to get back to "normal" has made things much easier for me.
It can be difficult explaining to friends why I can't stay out as late as they would like, or why I can't do anything after seeing a movie in a theater (though I have just about given that up) or go out on a day that is nearly 100 degrees! I found that this has gotten easier over the years as I have been able to discover what works best for me. I explained to friends that it wasn't that I didn't WANT to do these things, but I physically couldn't handle it. Some friends were more understanding than others. Fatigue is one of the most common symptoms of MS and being one that you can't see makes it even more difficult for people to understand. Everyone gets tired, but MS fatigue is an entirely different feeling.
MS also makes me feel older than I am when there is a lot of walking involved. About 8 months ago, I bought my first car! Before getting my car I would depend on other people for rides, mostly from my Mom (thanks Mom!) and take public transportation. Even with transportation at my finger tips, sometimes there is still a lot of walking to do to get around the city of Boston. My last relapse, over 4 years ago happened after walking too much. My legs go numb and get tingly after walking even short distances and standing tires me out. Even moving my arms in a repetitive motion makes them get numb and tingly. After resting, the symptoms go away, but it's never fun to experience. Of course when it is warm outside everything is worse and right now Boston is having some very hot weather – which is why I am home typing this right now by my AC!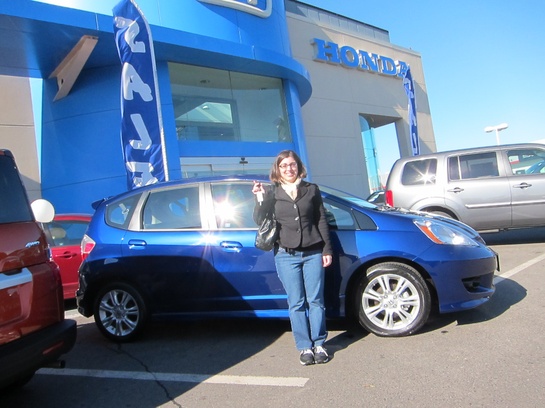 So… I am thrilled to now have a car of my own! I still use the "T", Boston's subway service, to get into the city and have the added luxury of going wherever I need to on my own time with my car. With my 6 year diagnosis anniversary upon me, I am glad I have figured out what helps me feel as well as possible and with my new car I feel that I have gained a new found independence. I guess MS doesn't ALWAYS make me feel older than my 32 years!
Caroline Kyriakou was diagnosed with MS in 2006. She enjoys reading, blogging, and is working on her first book. Caroline volunteers as a mentor through MS Active Source. Find her Facebook MS Support group Friends Against the MonSter here and you also can 'like' Caroline's page on Facebook by clicking here!
You can find additional blogs by Caroline on MS Relief. Caroline lives in Boston with her husband, Abe.