The Forcing Function – By Gary Pinder
We met the awesome Gary Pinder through Twitter, and we are honored he is sharing his MS story with us. He is truly inspirational and despite having MS, he has been traveling the world with his family. He has hiked the Inca trail to Machu Picchu, and in April 2011, he and his family hiked to Everest Base Camp in Nepal! Here he shares a story of hope and a wonderful disposition that life is full of possibilities:
Automobiles do not allow the driver to enter reverse gear while the vehicle is in motion. It is impossible to start a microwave with the door open. Our behavior is shaped by these "forcing functions". I have heard it said that Benjamin Franklin would announce new inventions before he actually invented them. He did this as a* forcing function* to make him do something he knew could be done and put pressure on himself to complete the task.
How does this relate to multiple sclerosis (MS)?
I recently read the story of a lady incapacitated by MS, unable to walk without an assistive device or the help of an individual. When her son announced his wedding, she set herself the goal of walking down the aisle without the need for any assistance. Using the wedding as a forcing function, for months she participated in regular exercise and physical therapy with the dream of achieving her goal. In front of her extended family, on the day of the wedding she walked down the aisle unassisted.
One year after I was diagnosed with MS, our first child, Brianna, was born. It had been a difficult year getting used to the diagnosis of a potentially catastrophic illness. Now I experienced the joy of seeing our newborn cradled in my arms while the sun rose on that first morning of her life. I knew by then that the only certainty about living with MS was uncertainty. I did not know if I would be able to run and play chase with her when she became a toddler. I did not know if the sight of a disabled father would embarrass her as a teenager. I did not know if it would become a burden to her and to my wife.
On that first day of my daughter's life, I made myself a promise. A promise I knew would not be easy to keep. I promised her and myself that on the day of her high school graduation I would walk into the event without requiring any assistance. When her brother Kyle was born two years later, I made the same promise to him.
That promise has been my forcing function. It was there that first day of self-injection with a disease modifying therapy (DMT). It is there when an IV is placed into my arm for steroids to arrest a relapse. It is there when my wife and I make decisions for me to take high-risk medications to arrest disease progression. It is there when I exercise. It is there when I drive once a week to play indoor soccer. All of these actions are done for one reason – to keep my promise.
I am now 16.5 years post-diagnosis. My daughter is just over 2 years away from graduating from high school and my son 4 years. Thanks to being in a completely peaceful relationship, fully compliant with DMT, staying physically active, accessing the best health care available, and an abundance of luck, I have every possibility of keeping my promise. I recently devised a new set of forcing functions. There are now a couple of future college graduations that I will need to walk into without any assistance. And if my children one day choose to do so, there are also a couple of wedding aisles I will need to walk down. One of those wedding aisles will require me to have my beautiful daughter holding my arm – the ultimate in forcing functions.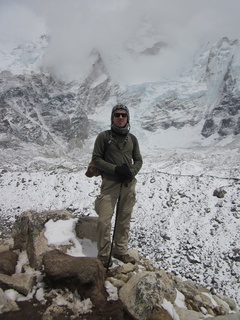 Each of us with MS faces a unique journey with this disease against a backdrop of huge differences in our personal lives. No matter what steps you take to ward off the progression of this ailment, the forces of nature will claim their victories. For defense against these forces, find a motivating force of life, that forcing function, which will act as your inspiration and your guide no matter the situation. If your force of life is a goal, no matter how small, share it with friends and family. In the same way that Benjamin Franklin announced inventions before he invented them, sharing your goals with others will act as the forcing function to help you achieve those goals.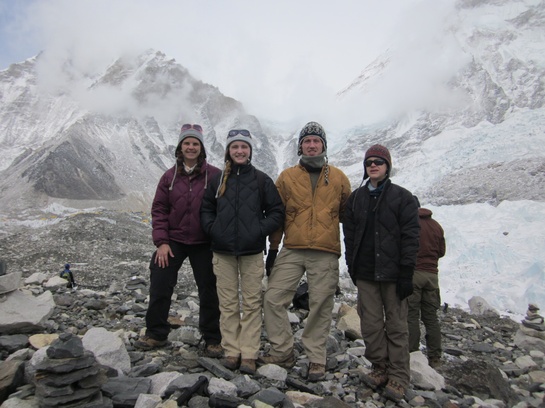 Gary and his family at Everest Base Camp: altitude 17,598 feet
Gary records inspiring stories he finds about the MS journey on Twitter. Follow here @MSThrivers.