The Man Behind Made Strong
We've had a tremendous reaction to the Made Strong shirts and sweatshirts. Read on to learn more about the man behind the brand.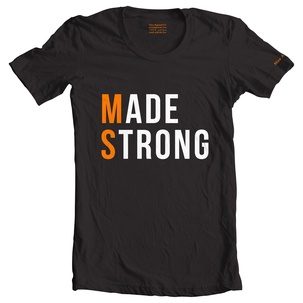 Nico Apparel was born out of a desire to inspire people who are affected by life's biggest obstacles. My background is in copywriting so I figured my best bet was to use my writing skills to put inspirational messages on shirts. I knew that the t-shirt market was extremely saturated and that I'd have to stand out to survive. I came up with a mission and that mission was to make refreshingly unique and powerful designs that motivate people to overcome that which holds them back. Thus, Nico Apparel came to be.
The first shirt we made was for people affected by Multiple Sclerosis. I knew a few people who were suffering from MS and in talking with them I found a common theme. They were battle tested, active, and had zero self pity…they were strong. It hit me like a lightning bolt "MS…Made Strong" it was perfect. We partnered with Race to Erase MS and donated portions for each shirt sold. The shirt became very popular and we were quickly selling all around the world.
In addition to MS we've raised money for causes related to autism, cerebral palsy, breast cancer, Parkinson's disease, cleft palate surgery, mentoring, and pet adoption. We're constantly coming up with more designs that inspire and bring in money for donations.
To our surprise, many of our shirts have been purchased in bundles of 2,3,4, or more. We've discovered that most shirts are bought and worn by family and friends to show their loving support. We've added the option to personalize the back of the shirts for team events like walks or runs.
Looking ahead, by the end of the year we would like to double the number of shirts available on our site. Ideally we want anyone to be able to visit our website and purchase a shirt that supports a cause that is near and dear to their hearts.
– Dominick Schwarz, Made Strong & Nico Apparel