Trusting Your Instincts
By Christine Brovelli O'Brien
"You have three white matter lesions."
That was how, back in April 2013, I received my initial diagnosis of relapsing-remitting multiple sclerosis. My neuro-ophthalmologist, who was kind enough to call me on a Saturday morning, spent a few minutes explaining to me what white matter lesions are before revealing my MRI results.
And the entire time he spoke, I knew what the results were. I had known the night before, when my husband and I drove over an hour from his office to the imaging center for my MRI – he had pulled some strings to secure me an appointment at 5 p.m. on a Friday and promised to let me know right away what the scan results were.
But I already knew.
I am the third generation in my family to have RRMS. So I knew. But, it's also how I saved myself from further suffering.
My journey began in March 2013, when I was scrambling to finish grading papers so I could go to bed before 2 a.m. It was right before spring break, and I had been grading for hours. My eyes were sore and tired; I remember looking up from a paper and noticing that the vision in my left eye was blurry. I didn't have any blind spots, but something was definitely "off." My husband and I chalked it up to stress and fatigue.
Later that same week, I came down with a virus and was so ill that I didn't think much of the fact that my vision was still goofed up, but later that month, during a routine visit with my optometrist, I asked him about it. His scans didn't result in anything alarming, but he referred to me to an eye clinic to follow up. I met with an ophthalmologist, who told me that everything with my left eye looked "fine" (I never had any problems with the right one), and that based on his in-office tests, I probably just had a "virus" because he didn't see anything consistent with MS. I asked to follow up with the neuro-ophthalmologist, just to be sure.
On the way home from that first appointment, my mom asked me why I wasn't happier that I got a good prognosis. It was difficult for me to explain that his diagnosis is what confirmed for me that I had a serious problem: If my eyes were "fine" but my vision is still wonky, that means that something is wrong with my brain.
Within the first few minutes of my meeting with the neuro-ophthalmologist, I knew I was in the right hands. He ran a battery of tests on me, including one that he hadn't performed in over 10 years, and my eyes were "just fine." Then he performed a very simple test that confirmed it for me. He held up a tiny eye drop bottle and asked me to close my right eye (the "good" one) and tell me what color that cap was. I said "whitish-pink" because that's what I saw. I opened my other eye and saw that it was bright red. So I knew.
It's a common saying that once your illness is diagnosed, you actually feel better because now you can put a name on it and being treatment. It's no longer the great unknown. And that's how I felt after the neuro-ophthalmologist's phone call, and when I met with a neurologist two weeks later to receive my diagnosis of RRMS. I had found relief.
This is not to saw I was ok. I cried a lot those first few months, mainly out of disbelief that I actually had MS. Ever since I was a teen, I have been worried about "inheriting" the disease, and I have watched family members suffer.
But when they were diagnosed, they didn't have the benefit of medications to help prevent the progress of MS, only ones to treat the various symptoms. This is why I didn't hesitate to begin treatment right away after my diagnosis.
In the weeks and months that followed my diagnosis, I told close friends and family members, but I didn't share the news with everyone. I wasn't keeping it a secret, and I told people that they could tell others (it would save me from having to tell everyone myself), but many people in my life still don't know.
Until recently, I kept the news a secret from our neighbors, who have become close friends, because I was worried that I would be treated differently, and I didn't want them to worry. I waited until last month, after my yearly MRI scan, which revealed no changes to my lesions (hooray!) and no new lesions (double hooray!), and guess what? They were supportive and treat me exactly the same as before – everyone does, as a matter of fact.
At the time of my diagnosis, I made another life-changing decision: I didn't renew my teaching contract. It was the first time in 13 years that I wouldn't be teaching, and it was a tough decision, but it was the right one. I don't regret it.
After all, I have a toddler to look after.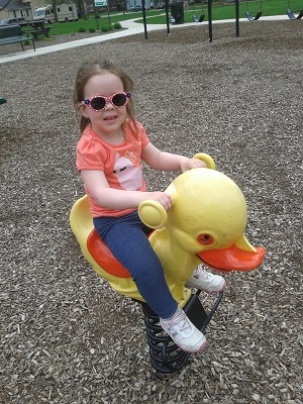 I became pregnant when I was 40, gave birth to my girl right before my 41st birthday (I felt awesome during my pregnancy, not even any morning sickness), and was diagnosed with MS the year I turned 43. Needless to say, the past few years have been filled with many game-changers. After I had my daughter, I frequently day-dreamed about staying home full-time, then after the MS diagnosis, I decided that life is too short to be unhappy and that stressed out all the time.
So now (many apologies for the cliché), I have less money but less stress, and more happiness. I also have been able to return to my own writing. Working as a freelance writer allows me to work around my own schedule, and my family is there to help with last-minute child care services (thanks, Mom!).
What I don't always have, however, is enough energy to get through the day running after my three-year-old daughter. It's not easy being a not-quite-so-young mom, and that's why I try not to be too hard on myself.
I trust my instincts more than I ever did before, and if my instinct is to lounge on the couch with some chocolate and a magazine, then that's what I'm going to do.

Christine Brovelli-O'Brien is a writer, mother, former English professor, and MSer. Her work also appears regularly on the What to Expect When You're Expecting Word of Mom blog. Follow her on Twitter: @brovelliobrien