Walking All Over MS
What are you doing to spread MS awareness this month? Our friend Caroline is participating in a Walk MS and they are such wonderful events that help raise MS awareness and vital funds to help find a cure for MS. Here is her story:
On April 7th I will be participating in Boston's Walk MS for the 5th year leading Team Kaliope. The first year I joined I didn't know what to expect. When I entered the Harvard Stadium I was overwhelmed by the sight of thousands of people. We were all there for the same reason, but I was overcome with emotion because of my diagnosis. Every year Abe and my sister Annie have walked by my side and friends have joined to help encourage me.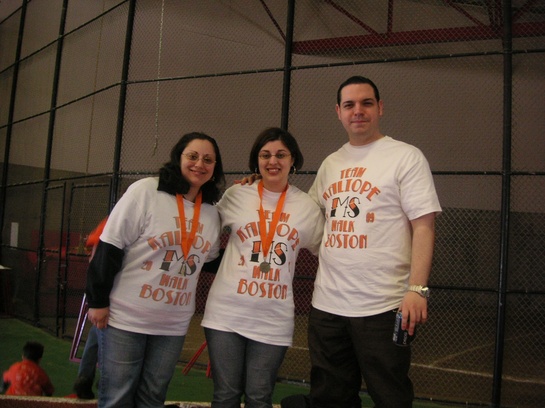 Annie, me and Abe at Walk MS 2009
Having them walk along with me has been so important and appreciated. The day starts off with everyone registering and Anthony Everett, a reporter for a local news magazine Chronicle, making a welcome speech. There are booths with information about MS, MS drugs and other supporters. Once the walk is kicked off, we walk around the Charles River for either 3 or 5 miles. Everyone meets up back at the stadium where there is lunch.
Last year I was in the top 12 fundraisers in Boston! This year I hope to be in the top 10! If you would like to help me achieve this goal, please click here to get to my secure personal page to make a donation of any amount. Every dollar counts! In the past years I have tried to come up with fun ways to fundraise and have hosted several parties, such as Tupperware and Stella & Dot. Last year I hosted a dinner with friends at California Pizza Kitchen which donated a percentage of the bill. I also had Q&A printed in the local Brookline TAB newspaper. I was so glad to bring awareness to MS which has become a passion of mine, and was thrilled when some of my patients (I work in a periodontal office) said they saw me in the paper!
This year I am hoping for nice weather, which we mostly have had in years past. I am especially hoping for no rain—or snow! I have met many people along my journey and it is always so nice to see so many familiar faces at the walk. I always document the event with many photos to help share with friends and family, especially those who have donated. Walk MS is really a special event, and if you haven't participated before, I suggest you check your local National MS Society chapter. Walks take place all over! I hope you will find the walk just as magical as me and together we can walk all over MS!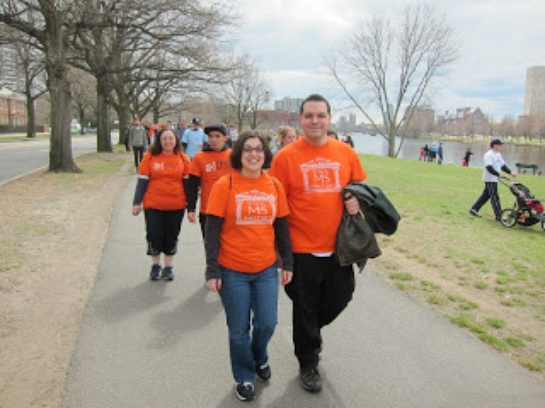 Abe and Me along the walk route in 2012 with Annie in the background
Caroline Kyriakou was diagnosed with MS in 2006. She enjoys reading, blogging, and is working on her first book. Caroline volunteers as a mentor through MS ActiveSource. Find her Facebook MS Support group Friends Against the MonSter here You can find additional blogs by Caroline on MS Relief.