Wonder
by Kristina Marie Dizard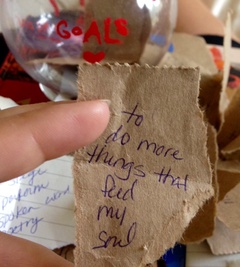 I sat on my gigantic pillow-top bed (you know, the ones that make the clouds envious) and as I rifled through my old goal jar from January I found myself holding onto one specific goal. Do more things that feed my soul. I stared at this crinkled up old piece of brown paper and hung onto it for awhile.
I was able to recount the big things fairly quickly, including trips and adventures I sought out either alone or with my two amazing children. I found myself feeling like I hadn't done enough to intentionally feed the cravings of my soul, and yet remembering other times that were filled with beautifully unexpected moments. That's life, isn't it? Sometimes we feed ourselves when we crave something, other times it's for different reasons, and at times we feel deprived a bit even right after we eat.
I had been resolute in January to not let MS stop me from seeking out beauty and experiencing wonder. I feel like I have become pretty skilled at finding wonder in the daily, seemingly mundane moments, which I personally like to refer to as soul snacking. Soul snacking is the art of feeding yourself wonder in small portions. A little something to tie you over until the big wonder-full meals that we all crave so dearly can take place.
I have found that living with MS can get in the way of these wonder-filled moments if we let it. Distractions, pain and fatigue are just a few reasons I think we can miss these soul snacks. I remember about a year ago I was on a walk with my kids literally wearing a hoodie that read: It is well with my soul. Can I be honest friends? That morning was one of the worst I had ever had in terms of pain and mobility. I felt like I had become a walking hypocrite, and was tempted to take off my hoodie right then and there. In those moments, nothing was well in my soul. I lost my patience with my son, my daughter was talking while I (not so convincingly) pretended to listen all the while completely missing the beauty that was around us. I get it, life happens, but I refuse to be a bystander on my journey or go through life blinded by frustration.
As I continued to reminisce back I realized that even on the days that had me laid up I was able to feed my soul with beauty from books, old photographs, etc. This assured me that I do not need to put on my explorers hat to flood my soul with beauty and wonder. In fact, a few of the simple moments have become the most memorable. Marveling at the suns sparkling reflection off of the cars as they drudged through the humming streets. Listening to the small sounds that my blinds make as they do the salsa with the strong breeze that embraces me. Watching my children's eyes smile right before their mouths do. Savoring a warm cup of lavender chamomile tea and realizing the scent has awakened my senses.
I must admit I loved some of the big trips I have taken that left my soul full for ages (Puerto Rico remains at the top of my list) however big trips aren't always feasible for several reasons. Just because we struggle at times with a disease that leaves us impaired in one way or another doesn't mean we cannot feel full with beauty and still fill our lives with moments of marvel. So remember to embrace the little moments that can leave a big impact because feeding our souls can be done in small portions, and still leave us satisfied.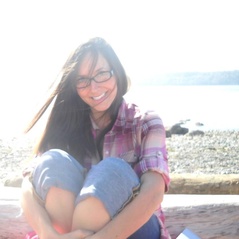 Kristina Marie Dizard has published 2 poetry books: Undefined and Embrace Every Facet, and was diagnosed with M.S. in 2005. Kristina lives in Edmonds, Washington where she advocates for the homeless, enjoys the beach and fabulous book stores.
You can find her online at http://facebook.com/EmbraceEveryFacetKristinaMarieDizard