Bombings in Beantown
Just a little over two months ago was the Boston Marathon Bombing, where a traditionally festive and joyful event turned to horror and alarm. Our hearts are still with Boston as we all unite to help those affected by this event. Our friend Caroline and a few others experienced this bombings that day, and here Caroline shares her story:
It has been a very emotional and trying time here in Boston, after the Boston Marathon bombings on April 15, 2013. The Boston Marathon is a beloved annual event and one that I always personally enjoy. The marathon course goes right by my apartment building and every year, in awe, I watch the wheelchairs and runners go by. I can't imagine myself running 26.2 miles, or even 1 mile. My apartment is at mile 22 and at this point the participants can use all the encouragement they can get.
In past years I have known a few people who have run the marathon, and this year was no different. A friend from childhood was back in Boston for the marathon. It had been maybe 13 years since we last saw each other, but have kept in touch over the years. I was able to see her and her mom the day before the marathon and caught up. The next day I tracked her progress online and was able to see her cross mile 20. After she passed I cheered on the runners for a short time and headed back upstairs.
TV coverage ends while most people are crossing the finish line and once that ended, regular programming came on. Abe, my husband, and I found something to watch when my mom called. She said there was breaking news of explosions at the finish line. Abe put the news on and we were glued to the TV. I texted my friend that ran the marathon to make sure she and her mom were ok, which thankfully they were. She had crossed the finish line about 15 minutes before the explosions.
Joe McIntyre, of the New Kids on the Block, was also running the marathon and tweeted about the explosions. My friends in Holland and Germany were the firsts to check on me and Abe. After that I sent out messages we were safe to friends by text and on Facebook and Twitter. We didn't know if there would be more explosions and where they might be. We saw images of hurt people without limbs being rushed for emergency care on TV and on the internet. But, we also saw everyday people rushing towards the explosions to help those who were injured. A real display of heroism and courage.
I personally don't know what I would do in this kind of situation, and hope I never know. But, it is so heartwarming to know that if I had been one of the people injured that there would have been someone there to help me. I had told Abe that morning that I had never watched the marathon from the finish line before and would like to do that someday. I am glad I didn't choose that day. Many events are held on Boylston Street and on a daily basis it is a very busy area of shopping and restaurants.
I am often in that area, and seeing this happen on the streets I walk was shocking. Of course, after 9/11 Americans were never the same. As tragic as 9/11 still is, it wasn't on the streets I walk and therefore effected me differently. When the Bruins held their Stanley Cup victory parade, my friends and I watched not far from where the bombings happened, and I think that it could very well have been me who lost their life or injured, if it just had been a different event the bombings happened at. Now, weeks after the bombings, "Suspect #2″ revealed that he and his brother had planned to originally to execute their attacks on the July 4th festivities. So, you just never know.
Over the next few days I think most Bostonians were in a state of shock and sadness. Photos and video came out of the bombers. The Thursday night after the bombings, the bombers, brothers, exposed themselves. Over the next day more violent acts were committed and another person lost their life. Abe woke me Friday morning at 6 am, before my alarm even goes off, to tell me he didn't think I would be going to work that day. A moment of fear washed over me not knowing what hit Boston.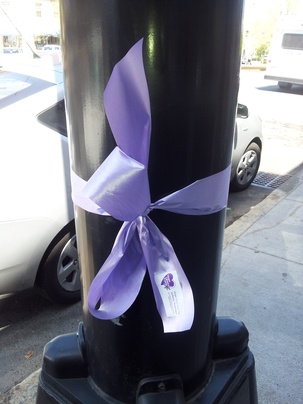 He told me that one of the bombers was dead and the other on the loose, and we were on lockdown per the government. I turned on the TV and watched straight from 6am until midnight, way past my usual bedtime. The usual noise of the busy main street was gone. We didn't hear any traffic or the sound of the "T" (Boston's public transportation) going by our apartment. All we could hear were police sirens and we could see their vehicles with flashing lights racing towards Watertown, the next town over, where "Suspect #2″ would later be found hiding in a boat where he would be arrested. When he was arrested, I instantly felt relief and proud of the all the police officers , FBI and government officials.
Stress isn't good for MS, so I didn't really know what to expect after going through so many emotions. Since the days have passed, I have noticed an increase in certain symptoms. I don't think I am relapsing, but definitely find these symptoms annoying, especially the vision issues and headaches. But, who knows, that could just be from work and life. That's the most frustrating thing about MS, not knowing if a symptom is happening because of MS or if you would have experienced it even if you didn't have MS.
Around Brookline, where I grew up and work, the next town over from where I live, there are purple (the color for unity) ribbons around street posts. There also is an American flag planted along Beacon Street in a flower bed. It was very touching to see. Boxes are also around town for The One Fund.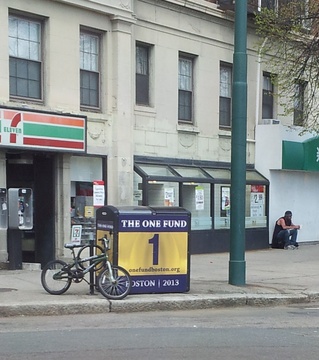 As the weeks go by we are still learning about the survivors of the bombings and following the progress of the recoveries. A part of me is still fearful going about my life, but I will not let the acts of terrorists prevent me from living my life and doing the things I love. I don't let MS stop me, so why would I let anything else? Whenever my time to go will be, I will have lived my life to the fullest. There is a memorial in Copley, near where the finish line is, that I will see this weekend. It will be quite a sight to see, an emotional one for sure, but when they say Boston is strong, that includes me.
Caroline Kyriakou was diagnosed with MS in 2006. She enjoys reading, blogging, and is working on her first book. Caroline volunteers as a mentor through MS ActiveSource. Find her Facebook MS Support group Friends Against the MonSter here
You can find additional blogs by Caroline on MS Relief.