Diet and Lifestyle to Help You Thrive with MS, Part 2 – Diet.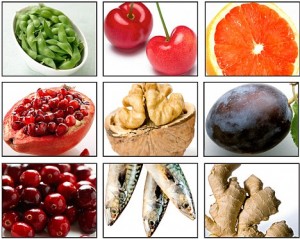 Last week we introduced you to Laurie, a health & wellness coach specializing in helping those with chronic illness and fatigue. This week we are so excited to share her second installment of her diet and lifestyle series:
There are several books and websites about diet and MS in the world. There is the MS Recovery Diet. The Swank Diet. The Best Bet Diet. The Overcoming Multiple Sclerosis Diet. Dr. McDougall's Diet. And more recently the Wahls Diet. Do we really need another diet?
We do if it is easier to follow and relies on a common thread found in all the diets just mentioned. There's no official name for the diet I used (I'm not so self-important to name it after myself), but it could be called an anti-inflammatory diet or an alkaline diet, with an MS twist.
Each of the above diets work from the principle of reducing inflammation and thus the immune response. Some do it be reducing fat. Others by eliminating common allergens. Others by taking an intensive nutritional approach meant to repair damage. What they all have in common is goal of reversing the acidic state of our bodies associated with the Standard American Diet.
If you have looked at any of these diets, you know they can seem daunting. Most focus on what you can't have. In my own journey, it took me a while to realize the better approach is to focus on what you CAN have. That's why I love the anti-inflammatory/alkaline approach.
The anti-inflammatory/alkaline approach starts from the premise that there are foods that reduce your body's inflammation. That's because these foods replenish your body with vitamins, minerals, phytonutrients and essential fatty acids necessary for proper cellular functioning. Those foods are also supportive of cellular repair.*
In contrast, when we eat a lot of acid-producing food (or are very stressed), our body goes searching for minerals to stay in balance. It finds them most often in our bones. When our body has to search for the minerals it needs to stay in balance we are drained of energy. Our immune system is also weakened.
So the most doable approach is to load up on alkaline producing foods (I prefer 80% for those with MS). Here's how that looks:
Fruits and vegetables, especially green leafy vegetables. There really is no limit here. Kale, sweet potatoes, broccoli, cucumbers, bok choi, zucchini, watermelon, mango, avocados, and pineapple. Eat them raw; eat them cooked, but eat them. Make them the center piece of every meal, not just the side dish.
Most nuts and seeds are great alkaline, mineral-rich sources of minerals and should be incorporated into your diet.
Eat whole grains, especially the following: brown rice, quinoa, amaranth, kasha, oats and millet. It is best to find out if you have a gluten sensitivity, as that has been associated with MS.
Be watchful of animal products. Dairy has been shown to create an immune response that aggravates MS. If you are eating meat, be sure it is as clean and free of hormones and antibiotics as possible.
Finally kick your junk food and sugar habit. They provide no nutritional benefit, are highly acidic and only contribute to fatigue, weight gain and other problems.
Now a word of caution. Don't do what I did and make all these changes at once. I promise, you'll come after me if you try.
Instead try one. Try the easiest one – eating more fruits and vegetables. Aim for 6 to 9 cups a day.
Once that feels comfortable, move onto the next step. Soon you will be loading your plate with veggies, topping it with a few seeds or nuts, adding a whole grain and voila, you have a delicious nutrient packed meal that will give you energy and help you thrive.
*Note: remember from high school chemistry alkaline is from 7.1 to 14 on the pH scale, acid is from 0 to 6.9 on the scale, with 7 being neutral. Our body aims to keep our blood acid at 7.3.
Laurie Erdman helps busy individuals living with chronic illness, stress or fatigue double or even triple their energy so they can enjoy life again. She overcame multiple sclerosis, fatigue, and chronic stress, and now inspires and educates others to use nutrition and lifestyle changes to create a healthier, more vibrant life. Laurie is Founder and Chief Wellness Hero at Chronic Wellness Coaching.