Optimize Your Diet AND Erase Multiple Sclerosis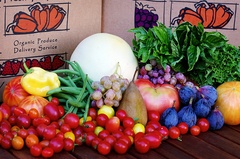 On Friday we shared with you a post from Laurie, a chronic wellness coach. She touched on "food as medicine," and soon she will thoroughly discuss diet as a way to manage Multiple Sclerosis symptoms.
We hope Laurie will inspire you to kick start an improved lifestyle. We want to remind you of our partnership with Farm Fresh To You. Farm Fresh To You is a home delivery service for fresh and certified organic produce grown that comes from their farm in Capay Valley, CA. When you purchase fresh, organic produce from "Farm Fresh to You":Farm Fresh To You., $15 will be donated to the Nancy Davis Foundation. This is a convenient way to ensure you get fresh fruit and veggies every week.
Click here to learn more and sign up to get fresh produce delivered to your door. Be sure to mention CODE "4008" at checkout so $15 is donated to Multiple Sclerosis research!*