Audio Version of a One-Woman Musical Shines a Light On MS, Loss & Inspiration
by Race to Erase MS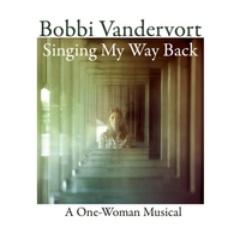 In Singing My Way Back, Bobbi Vandervort weaves together narrative and 22 original songs to tell her compelling story of life before and after her diagnosis of MS. In the moving one-woman musical, professional singer-songwriter Bobbi Vandervort takes listeners on a journey from her youth to life as a studio singer and beyond. She describes how a diagnosis of MS forever changed the course of her life, creating detours and challenges that demanded determination and hope.
Paralleling what her life is like with MS, the show is a roller coaster ride of emotions, from the heart-rending ballad, "Where Is the Hope?" to "Hold On to Hope", the uplifting, optimistic counterpoint that ends the show. Her songs range in style from ballads to samba, jazz, blues, R&B, and gospel.
Just as Bobbi had to find creative new ways to deal with her challenges, she had to rethink how she could perform what was initially envisioned as a live, one-woman musical. "This disease makes my life too unpredictable. I never know when fatigue is going to level me," she says. This audio production is her solution.
But even the audio version had its challenges. When it was time for Bobbi to record, she was too weak and fatigued to travel across Los Angeles to the recording studio. So, her music producer and engineer, Edward Auslender, brought his equipment to her home and recorded all the songs and the narrative in her walk-in closet.
Singing My Way Back is available as either a two-CD set or a download. A percentage of the profits will go to MS research. >> CLICK HERE << to purchase or download the two-CD set!