When the Healer Becomes the Patient
by Meagan Freeman
I was diagnosed with MS in 2009, right in the middle of my Bachelors degree program in Nursing. I had been an emergency department RN for 10 years prior, and was hoping to pursue my Nurse Practitioner Masters degree. My diagnosis was a shocking blow. In addition to my status as a full time student, I was also a wife and mother of 5, stepmother of 1.
What was the use of pursuing my degree now? Why should I continue? Images of my grandmother raced through my mind. My maternal grandmother was bedridden and nonverbal in my memory, due to a long battle with MS. These images were terrifying to me, and I pictured myself in that same state.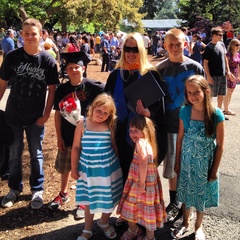 A tiny voice in my mind encouraged me. When I felt like giving up, this voice pushed me on. I would like to think it was the voice of my grandmother, who passed away many years ago from MS. I continued to pursue my degrees, despite my symptoms. I managed to complete my Masters degree in Nursing and Family Nurse Practitioner licensure in 2012 from Sonoma State University.
With that success, I felt so encouraged. I now knew I could succeed despite this diagnosis. It did not change who I was, and I could overcome. I began to practice in a primary care setting, seeing my own list of patients for appointments each day. My days were long, and very difficult at times. As anyone with MS knows, there are definite "good" days and distinct "bad" days. These are unpredictable changes, and I had to get up each morning and put my patient's needs before my own.
I started to experience the irony of my situation. I was supposed to be the healer, yet I was ill. I was supposed to be the provider, but I was the patient at the same time. In primary care, many patients have very minor issues to discuss, such as sore throats, common colds, and wart removal. Many patients asked for work excuses for issues I felt were very minor. At times I felt like saying: "I am sicker than YOU are," but I resisted the urge. Some patients were far worse off, suffering from diabetes, heart disease, and pulmonary issues. I felt so connected to those with chronic ailments. I knew what it was like to carry the burden of an incurable disease, and I struggled with the decision to share my own experience. It felt "unprofessional" to share my issues with my patients. Would they still have faith in me as a provider if they knew I had MS? Would they leave my practice to see another provider who wasn't sick? Would their trust in me fade a bit if they knew?
My situation was unique, and it was a daily struggle.
I asked myself: Would I want a provider who truly understood my experience? Of course I would. It is a fine line, as a provider. You begin to really know every detail of your patient's lives, and it is a balance between sharing and listening. I began to develop a sense of my patient's needs and personalities, and I knew which patients would benefit from hearing my story. On some days, tears were even shed. I would share my story, and some of my chronically ill patients felt so relieved to know that I truly understood.
It is an isolating experience at times, being chronically ill. Some of my patients had no friends and family to speak to. I was the sole source of emotional and physical support for these patients, and some patients would make appointments simply to talk. I find that many providers are cold and distant, only seeing patients as a disease process. What about the mind? We are so much more than a body. Providers should always see the patient as a mind-body unit, addressing the full scope of chronic illness. Psychological and emotional symptoms are common, and no one should leave an appointment feeling dismissed.
I continue to try to find a balance between healer and patient. They are distinctly different roles and mindsets. Some days with MS are my "patient" days, when I can't exert the energy to provide care for others. Other days, I am strong and energetic, and ready to play the healer. I am grateful for my life, and my opportunity to share my experience with other patients who might benefit from hearing my story. You are stronger than you think! Never give up, and find a provider who truly understands. The idea is to care for the physical body, while also supporting human being within.

Meagan Freeman was diagnosed with RRMS in 2009, at the age of 34. She is a Family Nurse Practitioner in Northern California, and is raising her 6 children (ranging from 6 – 17 years of age) with her husband, Wayne. She has been involved in healthcare since the age of 19, working as an Emergency Medical Technician, an Emergency Room RN, and now a Nurse Practitioner. Writing has always been her passion, and she is now able to spend more time blogging and raising MS awareness. Please visit her at: motherhoodandmultiplesclerosis.blogspot.com.