So I Found Some Joy
by Christine Brovelli O'Brien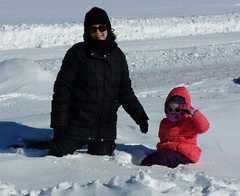 This past December, I wrote a blog post about finding joy in a life with MS. I challenged myself and others with MS to find happiness in the little things in life.
Now spring is (sort of) in the air, and although where I live in the Midwest, we've been dealing with -30F wind chills and haven't seen the sun much in the past two months, we're starting to see signs of life. I even heard a bird chirping the other day! And that's enough to keep me going.
Here are a few highlights from my challenge so far:
• Looking closely at the ice-covered snow to see how it sparkles and glistens. We have a 3-year-old daughter, so my husband and I play in the snow a lot, and it looks amazing in the glow of the afternoon sunlight. I really don't mind the cold weather, and that burst of freezing chill actually feels good after being cooped up indoors. For about 30 minutes, anyway, then I want to go back inside.
• Giving to others. In early January, I was waiting in line at the drug store and chatting with the woman in front of me about the free gift (a bottle of perfume) that came with the shampoo I was buying. When the woman gave her address to the clerk, I immediately recognized it as the local women's shelter. She was still near the counter when I made my purchase and received the perfume, so I gave the bottle to her, saying I wanted her to have it. It cost me nothing, and the joy it brought her made me feel wonderful.
• Eating popcorn. Yes, this really does make me very happy. My husband makes an awesome batch of popcorn with butter, olive oil, and sea salt. Better yet, he lets me eat the entire batch – and you better believe that I do!
• Taking my medication. What would bring me even more happiness, of course, is not having MS. But that just isn't my reality. I watched my Grandma suffer with MS for decades when there weren't medications available to treat the disease, so I'm very lucky that I have treatment options. When it's time for my injection at the end of the day, I remind myself over and over again to be grateful. This is the hardest of all, but in so many ways, the medication is what makes the rest of my joy possible.
• Coffee and cats. Pets are wonderful, and it's even more wonderful when you can hang out with them and drink a latte at the same time.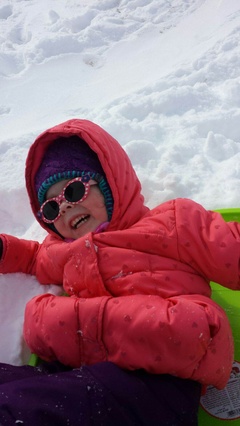 • Spending time with my child. Two years ago when I was diagnosed, I left my job as a college professor to stay home full-time with my daughter, and that alone has brought on many challenges! But I don't regret it for a second, and we have a great time together. It's been healthy for me to be at home where I can rest when I need to ("rest" means something entirely different to a preschooler than to an adult, I might add), and I have some of my happiest moments when we're playing hide-and-seek or with trains or dollhouses. Yes, I'm utterly exhausted by the time my husband gets home from work, but it's worth it. How can you say no to a little girl who looks up at you and asks, "Mommy, can we have a dance party?"
I'm not going to lie: There also has been a lot of hanging out on the couch, watching TV, coloring, and reading a fashion and celebrity gossip magazines. But these things also bring me joy, so it's a win-win situation!
Where do you find joy and happiness in your daily life?

Christine Brovelli-O'Brien is a writer, mother, former English professor, and MSer. Her work also appears regularly on the What to Expect When You're Expecting Word of Mom blog. Follow her on Twitter: @brovelliobrien